The International Residential College is a vibrant and enriching residential and academic community for undergraduates, both international and domestic.
The IRC is much more than a residential hall. It is a Residential College, meaning academics and social life are infused into a comprehensive and cohesive fabric.  This concept was envisioned by Thomas Jefferson for U.Va. at its founding to directly integrate faculty and students in a dynamic living and learning environment. Through the interaction and intellectual discourse between residents and faculty, the IRC hopes to instill the goal of academic excellence as well as global consciousness.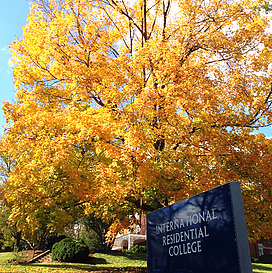 The IRC is a place where over 300 undergraduates develop their intellectual capabilities, networking skills, and profound global perspectives.  While the majority of the students are from the United States, the IRC boasts of having the largest international-to-domestic student ratio on Grounds. Moreover, exchange students from partner universities around the world as well as the international residents represent 38 countries from around the world.
Residents are offered many opportunities to interact with world-class professors and fellows who are active members, through mentorship and formal Conversazione Grande Dinners at Alumni Hall, an event unique to the IRC. Students also connect with their peers and learn from one other, through enlightening dialogue and study groups. By nurturing a culture of academic excellence, the IRC has an above average GPA of 3.3+. Indeed, IRC students strive to succeed and to share this success with their colleagues.
 
Among the many programs sponsored by the IRC, the diversity of culture is celebrated with much joy and food. With an emphasis on global awareness, inter-cultural interaction, study abroad opportunities, and community outreach are main themes of the IRC, organized by the IRC's Student Council and committees. These bodies are maintained through student governance and participation.
 
The programs offered promote the IRC's distinctly international identity, strengthening UVA's residential experience and its global perspective, presence, and connections.
 
The IRC academical village includes four student residential buildings and one faculty residential building. To see more information on houses, visit our Houses page.
Students who live at the IRC pay an activity fee of $110 per semester.  This fee covers IRC programming and events including, but not limited to: a weekly continental breakfast, weekly tea event, apple picking, trips to Monticello or Washington, D.C., the annual IRC Ball, sporting events, Welcome Back dinners, t-shirts and more!  Live the Difference!
The mission of the International Residential College residents, as members of a global community, is to spread knowledge and understanding of ourselves to all cultures; to better ourselves through exposure and interaction with people of various backgrounds; and to translate social and cultural consciousness into positive global action.  With this in mind, The International Residential College endeavors:
1.  to build a welcoming, diverse and participatory community,
2.  to promote cultural exchange and awareness,
3.  to enrich ourselves and those with whom we interact through the celebration of diversity,
4.  to cultivate academic interests and scholarly pursuits beyond the classroom, and
5.  to support and serve like-minded groups in the University of Virginia and Charlottesville community.
The IRC was opened in Fall of 2001 by the University with a desire  to create an environment focused on exploring global and cross-cultural issues on Grounds. As the first Principal of the IRC, Prof. Brad Brown led and developed the residential college into a strong community of successful students with a unique, global perspective.
In Fall of 2013, the IRC introduced its second Principal, Prof. Eric Loth. Under his and the new Director of Studies', Sandy Seidel, direction, the Faculty Fellows program was expanded. Student mentorship with the top professors of UVA became individualized.  In addition, the IRC has assimilated the best practices from Harvard's residential college system: intra- and inter-college competition, student speeches, increased dining options, and Morea evenings.
Reid Baily was appointed as the third principal of the IRC in August of 2018. Reid's goals include getting to know IRC residents and empowering residents to not just attend, but create events that advance the IRC's mission.
Phoebe Crisman was appointed as the fourth principal of the IRC in August of 2023.  Phoebe and her family reside in Little Morea House. David Edmunds was appointed non-residential Director of Studies in August of 2023.