UVA in England: IRC in Oxford & London
This INST 2500 seminar and Spring Break journey to England is a unique education abroad experience open only to residents of the International Residential College. Students will visit Oxford's historic residential colleges and consider what structures and programs they may wish to integrate into the offerings at UVA's residential colleges. During a visit to London students to learn how to navigate in a global city and study urban culture through visits to museums, monuments, and cultural sites, as well as an evening at the West End Theater production.
Location
This program will visit historic sites in Oxford, including the famous residential colleges, the Bodleian Library, and the pubs that inspired Lewis Carroll and J.R.R. Tolkien. After Oxford, the group will travel to London and visit St. Paul's, the Tower of London, the British Museum and other must-see sites.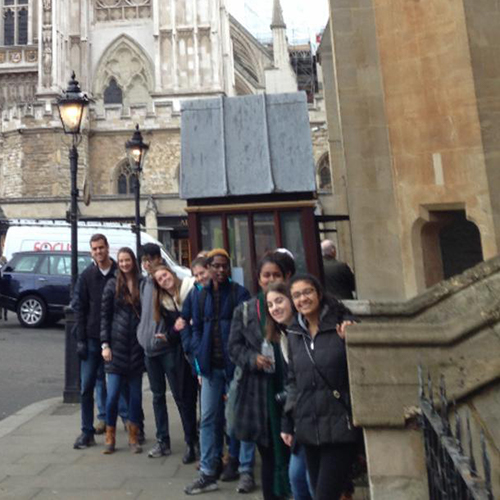 COURSES
Students will be enrolled in INST 2500: IRC in London and Oxford: Residential Colleges in the 2023 spring semester. This is a 1 credit course that is graded CR/NC.
The class will meet weekly on Grounds in the IRC to prepare students for the visit to Oxford's residential colleges and sites in London. Students will study the urban structure of Oxford and London in order to navigate on foot and via public transportation. Students will give class presentations about the sites that will be visited. The class will journey as a group, first to Oxford and then to London from March 4-12 during UVA's spring break. Upon returning to Grounds, the class will meet again in the IRC to reflect on their experiences and to discuss new ideas they may wish to implement in our residential college after visiting residential colleges in Oxford.
FACULTY
Phoebe Crisman | cri[email protected]
Program director Professor Phoebe Crisman is the Director of Global Studies and Director of Studies at the International Residential College. The opportunity to visit residential colleges in Oxford to bring ideas back to residential colleges at UVA is a key goal of this journey. Another purpose is to learn to navigate and appreciate the diverse culture offerings in London, one of the world's most dynamic global cities.
ACCOMMODATION AND MEALS
Students will be housed in hotels in Oxford and London.
COST AND FINANCIAL AID
The program cost and payment schedule are listed under the "Budget Sheets" link at the top of this page. Students with identifiable financial need are encouraged to apply for fellowships, scholarships, and financial aid.
ACCESSIBILITY
The University of Virginia believes in providing reasonable accommodations for students with documented disabilities on an individual basis. If you believe that you would require adjustments in order to fully participate in this program, please contact the Student Disability Access Center at 434-243-5180 as early as possible in order to begin this dialogue.
PASSPORT AND VISA
All participants will need a valid passport in order to participate in the program. Students must ensure that their passport is valid at least six months past the program return date. All students must consult gov.uk for information about visa and other entry requirements. International students should meet with their International Student Advisor in the International Studies Office as part of the application process.
HEALTH AND SAFETY INFORMATION
All students considering Education Abroad should consult the Students Abroad section of the U.S. Department of State's web-based travel resources and the Centers for Disease Control and Prevention Traveler's Health web resources to research health, safety, and security conditions; visa requirements; immunization requirements; and recommendations on staying healthy and safe in their target destination(s). Students should also carefully review the UVA Education Abroad Health & Safety Abroad web page. Parents and guardians are strongly advised to review all of these resources, as well. UVA students and visiting students enrolled in UVA Education Abroad programs are subject to the University of Virginia's Policy on Student International Travel.